From our NORM Healthy Manager…
Hi Everyone!
I hope everyone had a hoppin' Easter and a happy Passover that was filled with lots of memories, laughs and times spent with the family! This time of year is like a "catch 22"; you want to eat the chocolate and indulge in holiday treats, but you also know that shorts and swimsuits are upon us. It's so hard to think about the future when you are craving something in that current moment, but I am here to tell you that this can be avoided. One thing I always explain to my clients is that you should never let five seconds or even minutes of what we like to call "taste bud heaven" to interfere with a lifetime of happiness. Meaning: skip that two pound chocolate Easter bunny that you know you don't need and opt for something that can still be just as tasty and nutritious!
Growing up, my mom was always a health enthusiast and I owe a lot of my passion for health and fitness to her! I distinctly remember her never really filling my basket with loads of sugar but instead she would make her own treats from scratch or buy fun and unique water bottles to jazz up my basket. Of course I had a chocolate, but again, it wasn't an over indulgence of pure sugar. I wanted to share with you one of my favorite creations my mom used to make for me. Super fun to create, super easy and you  can honestly do just about anything you want with it!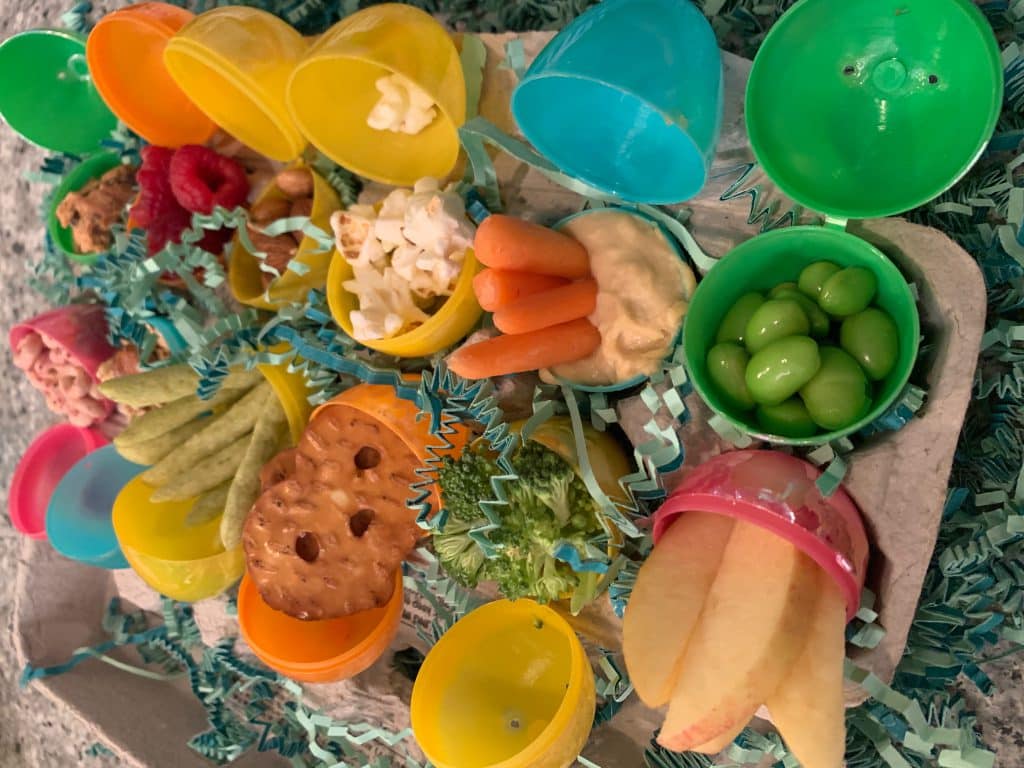 The Surprise Egg is what we called it. You basically stuff all of your favorite, healthy treats in plastic eggs and leave one to fill with something that isn't so healthy. For instance, the cookie dough egg as seen in the picture. We often forget that it is acceptable to splurge on sweets, but it isn't acceptable to eat your body weight in it. This is the method of the surprise egg! You are enjoying healthy treats that you know and love, BUT, the surprise is also your favorite indulgence!
I know that Easter and Passover have officially come and gone, but this is a great idea to keep in mind for next year or even for Mother's or Father's Day. ! In the picture above I have (left to right – top row)
Sliced Apples

Broccoli

Pretzel Crisps

Snap Pea Chips

Granola

Strawberry Cheerios

Edamame

Hummus and Carrotts

Popcorn

Almonds

Raspberries

Cookie Dough ?
Get creative with yours! Add your favorite treats and have fun! As we all know, bunnies are super energetic and pretty darn cute…I feel like it absolutely has something to do with that healthy diet of theirs too! Let us know what you think about this idea and if you have any suggestions, we want to hear them! Until next time!
Chelsea
Posted
by